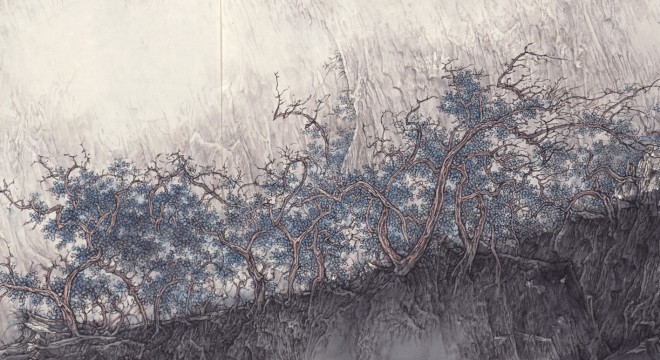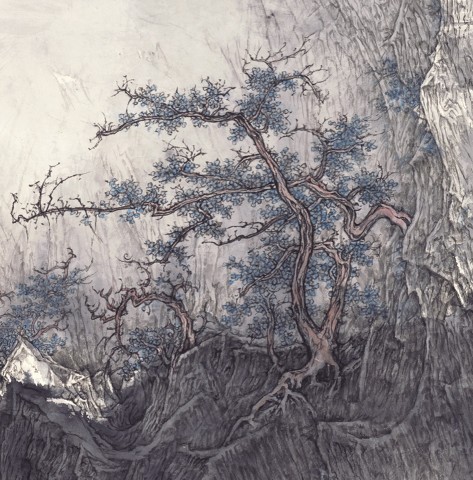 Ink and colour on paper
86 x 204 cm
Signature: Yiwei chun fen Li Huayi bi (Li Huayi painted this on a spring day of Yiwei year (2015) and with one seal of the artist (lower left)
%3Cdiv%20class%3D%22artist%22%3E%3Cstrong%3ELi%20Huayi%3C/strong%3E%3C/div%3E%3Cdiv%20class%3D%22title_and_year%22%3E%3Cem%3EUntitled%3C/em%3E%2C%20%3Cspan%20class%3D%22title_and_year_year%22%3E2015%3C/span%3E%3C/div%3E%3Cdiv%20class%3D%22medium%22%3EInk%20and%20colour%20on%20paper%3C/div%3E%3Cdiv%20class%3D%22dimensions%22%3E86%20x%20204%20cm%3C/div%3E%3Cdiv%20class%3D%22signed_and_dated%22%3ESignature%3A%20Yiwei%20chun%20fen%20Li%20Huayi%20bi%20%28Li%20Huayi%20painted%20this%20on%20a%20spring%20day%20of%20Yiwei%20year%20%282015%29%20and%20with%20one%20seal%20of%20the%20artist%20%28lower%20left%29%20%3C/div%3E
Location of creation: Executed in San Francisco
Location of creation: Executed in San Francisco
Provenance
Private Asian Collection
Exhibitions
Contemporary Landscapes: Li Huayi, Honolulu Museum of Art, Hawaii, the United States, 24 August 2019 – 5 January 2020

Exotica, Recent Works of Li Huayi, Kwai Fung Hin Art Gallery, Hong Kong, China, 22 March – 21 May 2016
Literature
Lam, Samwai. "夢華山水." City Magazine, Issue 477, June 2016, pp. 34-39.
"Kwai Fung Hin Art Gallery Presents the Exhibition: Exotica - Latest Works of Li Huayi." Metro Prosperity, May 2016, p. 93.
"走遍天涯海角 拼湊奇觀異景." East Week, 13 April 2016, pp. 106-107.
"在大山大水中感通天地:奇觀異景—李華弌新作展." Phoenix Trendy Guide 1997, 5 April 2016, mp.weixin.qq.com/s?__biz=MzAwNjEwNDM1NA==&mid=407382985&idx=1&sn=5aab53f1d358cf13f6f64382a5c0b086&scene=0#wechat_redirect.
"專訪水墨藝術家李華弌:在創作中不斷尋找自己." Asia Pacific Daily, 5 April 2016, cn.apdnews.com/lifestyle/design/372189.html.
Wu, Shuan. "Western Thoughts and the Chinese Moon: On Li Hua-Yi's Ink Wash Practice." ARTCO, April 2016, pp. 134-137.
Whitehead, Kate. "Chinese Artist Li Huayi, in Hong Kong for Show, Describes His Lucky Life." South China Morning Post-Post Magazine, 26 March 2016, www.scmp.com/magazines/post-magazine/arts-entertainment/article/1929968/chinese-artist-li-huayi-hong-kong-show.
Zheng, Wei. "Exotica Latest Works of Li Huayi." Chinese Contemporary Art News, Issue 134, March 2016, pp.48-53.
Publications
Eichman, Shawn. Contemporary Landscapes: Li Huayi. Hawaii: The Honolulu Museum of Art, 2019, pp88-89
Fung, Edward. Li Huayi, Landscapes From A Master's Heart. Milan: Rizzoli International Publications Inc. and Kwai Fung Art Publishing House, 2018, pp242-243
Fung, Edward. Exotica: Latest Works of Li Huayi. Hong Kong: Kwai Fung Art Publishing House, 2016, pp60- 61