Established in 1991, Kwai Fung Hin Art Gallery has expanded into a gallery of repute in Hong Kong through its organization of over a hundred exhibitions, eleven major art events at museums, production of over thirty-five art catalogues, and publications of one hundred and twenty-five lithographs. It has promoted in total around a hundred artists from more than ten different countries, who together represent a comprehensive range of artistic traditions and practices.
Kwai Fung Hin Art Gallery specializes in 20th century modern Chinese art and Asian Contemporary Art, with a focus on artists who have extensive artistic and cultural experience in the West, China and greater Asia Pacific region. They have not only mastered the spirit of Oriental culture but have also been influenced by modern Western ideology, art and culture. They have infused contemporary elements into the existing artistic tradition, opening a new chapter of art development.
Kwai Fung Hin has published the highly acclaimed monographic book on the entire art career for French-Chinese abstract master Zao Wou-ki in three languages (Chinese, English and French); organised the first solo exhibition "Exotica" for US-based Chinese contemporary ink master Li Huayi and supported his solo exhibition "Fantasies on Paper and Enchantments in Gold" at Suzhou Museum; organized the first solo exhibition "Vision from His Ink Works" for renowned contemporary artist, scholar and educationalist Pan Gongkai, the retrospective exhibition "Singing in Colours and Dancing in Ink" for Lalan; the retrospective exhibition "Colours of Fragrance" for Walasse Ting, "Fleeting Eternities" for Korean abstract painter Myonghi, and "Sleepers" for Japanese super-realistic artist Atsushi Suwa.
Most recently, Kwai Fung Hin has published the monograph Li Huayi – Landscapes from a Master's Heart under a joint venture with Rizzoli International Publications, which provides bird's eye views as well as microscopic details of the artist's work throughout his career to present-day.
---
FOUNDER: MS CATHERINE KWAI
Born and raised in Hong Kong, Ms. Catherine Kwai developed her passion in art and philosophy since childhood. After her successful career in the banking industry for 10 years, she decided to establish Kwai Fung Culture & Communications Company Limited in 1991. In the past 29 years, her business has been developed into four companies with different directions and missions in art:
1991-present Founder and Managing Director, Kwai Fung Hin Art Gallery
1996-present Founder and Managing Director, Kwai Fung Art Consultants
2002-present Founder and Managing Director, Kwai Po Collection
2006-present Founder and Managing Director, Kwai Fung Art Publishing House
Over the 29 years, Kwai Fung Hin has organized more than 100 exhibitions. Ms Kwai has
also cooperated with renowned museums and cultural institutes in China and Hong Kong and was assigned as the curator or co-organizer in supporting many important and influential exhibitions.
Ms Kwai's contribution in cultural exchange between China and France has earned her the award 'Knight of l'Ordre National du Mérite' by the French Government in 2011.
Alongside devoting herself in building up a successful career, Ms Kwai has also been actively involved in charity works and public services:

• Chairperson of the Advisory Committee for the Indra and Harry Banga Gallery of City University of Hong Kong
• Co-President of the Hong Kong Art Gallery Association
• Member of the Advisory Committee on Arts Development (ACAD) of Home Affairs Bureau
• Member of the Board of Governors of City University of Hong Kong Foundation
• Member of the Court of City University of Hong Kong
• Member of the Court of The Hong Kong University of Science and Technology
• Italy Government Appointed Member of the Marco Polo Society
• Advisor of Our Hong Kong Foundation
• Executive Vice-Chairman of Federation of HK Jiangsu Community Organisation
• Member of Board of Directors of Association Culturelle France-Hong Kong Ltd. (2012-2019)
---
HISTORY
1991 Prelude

Ms Catherine Kwai left the field of finance, which she had served for many years, to start a new page in her life. At a private club in Central, Hong Kong, she presented a group exhibition of Yunnan painters, and in this way the prelude to Kwai Fung began.

1994 Foundation

Kwai Fun Hin Art Gallery established the first formal gallery space located on the 2nd floor of no. 79 Wong Nai Chung Road, Happy Valley. At the beginning, it focused on a series of exhibitions of French contemporary art. After just two years, it made its first step outside Hong Kong and beyond the scope of a commercial gallery, by curating a retrospective exhibition of Marcel Mouly, an important painter of the School of Paris, at the Shanghai Art Museum.

1996 Kwai Fung Art Consultants

Kwai Fung Art Consultants has over 20 years of experience in helping collectors to strengthen their top quality art collections. We offer a highly discreet and personalized art advisory service, providing individual and corporate clients with insightful analysis based on our art expertise and privileged knowledge of the market, and are committed to helping our clients to build and manage valuable art collections of both aesthetic and academic value.

2002 Kwai Po Collection

Kwai Fung established the Kwai Po Collection – a project for systematically publishing and promoting Chinese contemporary lithographs on an unprecedented scale. Since its inception, through participation in international art fairs such as FIAC (Foire Internationale d'Art Contemporain) in France and Art Chicago and Art Miami in the United States, Kwai Fung has built up an international distribution network for these lithographs. By such means Kwai Fung has given a high level of proactive support to contemporary art in China.

2004 Move to Central

Kwai Fung moved from Shum Wan in Aberdeen to Central, the most important financial district in Hong Kong. At a shop space on the ground floor of 20 Ice House Street, the gallery started a new phase, holding each year a series of fascinating art exhibitions, which have gradually established Kwai Fung as one of the area's favourite artistic venues.

2006 Kwai Fung Art Publishing House

For each of its major exhibitions Kwai Fung has made considerable effort to produce a substantial and authoritative catalogue, providing in-depth introductions to the artists that we represent. In 2006 the Kwai Fung Art Publishing House was set up. We work with international publishers such as Flammarion and Rizzoli, in order to achieve a more systematic editing and comprehensive distribution of the publications, and contribute to the art literature at our best.




2010 Hommage to Zao Wou-ki

In 2007, Kwai Fung Art Publishing House initiated a demanding but very meaningful project: the production and publication of a monograph on Zao Wou-Ki, covering the essential features of his entire artistic career. With the support of Zao's wife, Ms Francoise Marquet, as well as his personal assistant, Mr Yann Hendgen, the book was launched in 2010, with Chinese, English and French editions, and is recognized as one of the most authoritative sources for studying Zao Wou-Ki.

2020 Our new chapter

Kwai Fung Hin Art Gallery has moved from Central to a 10,000sqft space located at 11/F, Asia One Tower, 8 Fung Yip Street, Chai Wan embarks an exciting chapter for the gallery, which is marking our 29th anniversary this year.


With almost three decades of professional experience behind us, the move brings opportunities for the gallery to explore new ways of exhibiting and experiencing the work of our artists.
---
CURATION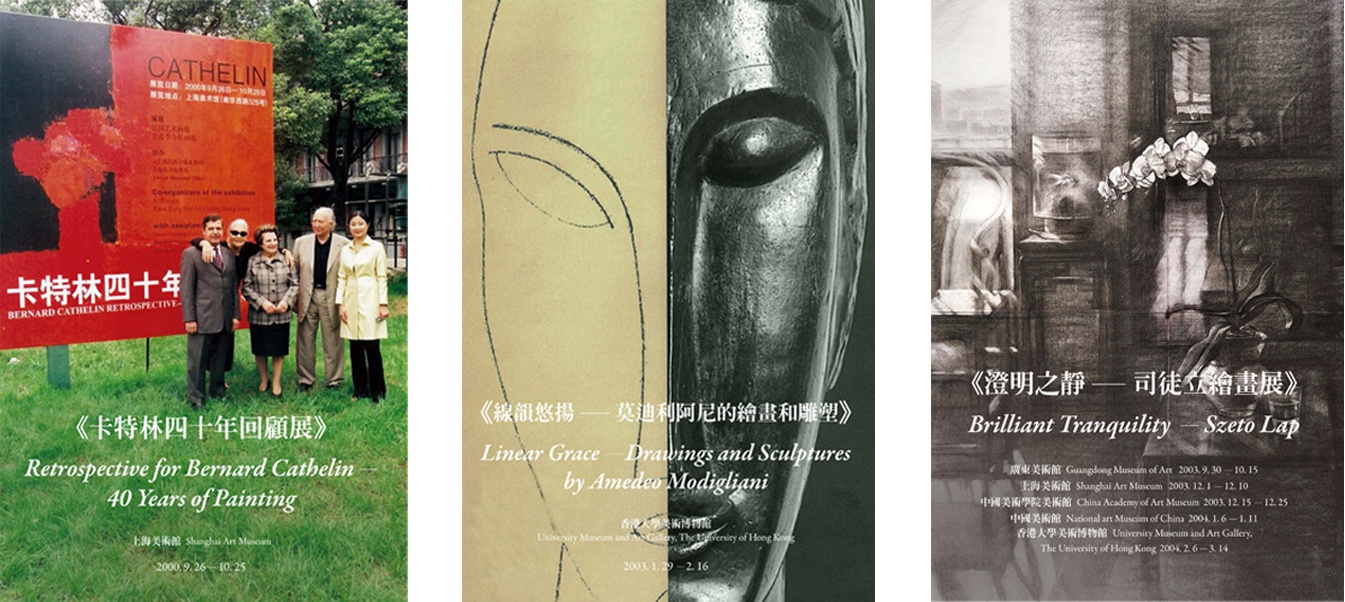 As early as 1996, Kwai Fung organized the retrospective exhibition of Marcel Mouly, an important painter of the School of Paris, at the Shanghai Art Museum. It was highly successful, at a time when the entry of Western art in China was still in an early stage of development, and attracted thousands of art lovers from Shanghai and a number of provinces in the Yangtze delta. From then on, Kwai Fung and its founder, Ms Catherine Kwai, have regularly cooperated with important art museums and cultural institutes in curating large-scale exhibitions.
These have included Retrospective - 40 Years of Painting of Bernard Cathelin (2000); Brilliant Tranquillity- Szeto Lap (2003); Linear Grace - Drawings and Sculptures by Amedeo Modigliani (2003); The Collection of the Shanghai Chinese Painting Academy (2005); Faceted Symphonies: Paintings by Ma Desheng (2006); What's Next? Chinese Contemporary Art Exhibition (2007); and Fang Shao Hua - In Search of Harmless Apples for the Garden of Eden (2008).