Gérard Schneider was born in 1896 in Sainte-Croix, Switzerland. He came from an antique dealer and art restorer family. At the age of twenty, he studied at École Nationale Supérieure des Arts Décoratifs. In 1918, he entered École Nationale Supérieure des Beaux-Arts in Paris, and taught by Fernand Cormon, Vincent Van Gogh's teacher. Schneider moved to Paris permanently in 1922 when Cubism was the mainstream in Paris art scene. He admired Cézanne's creativity, and he was also an avid Surrealism poet.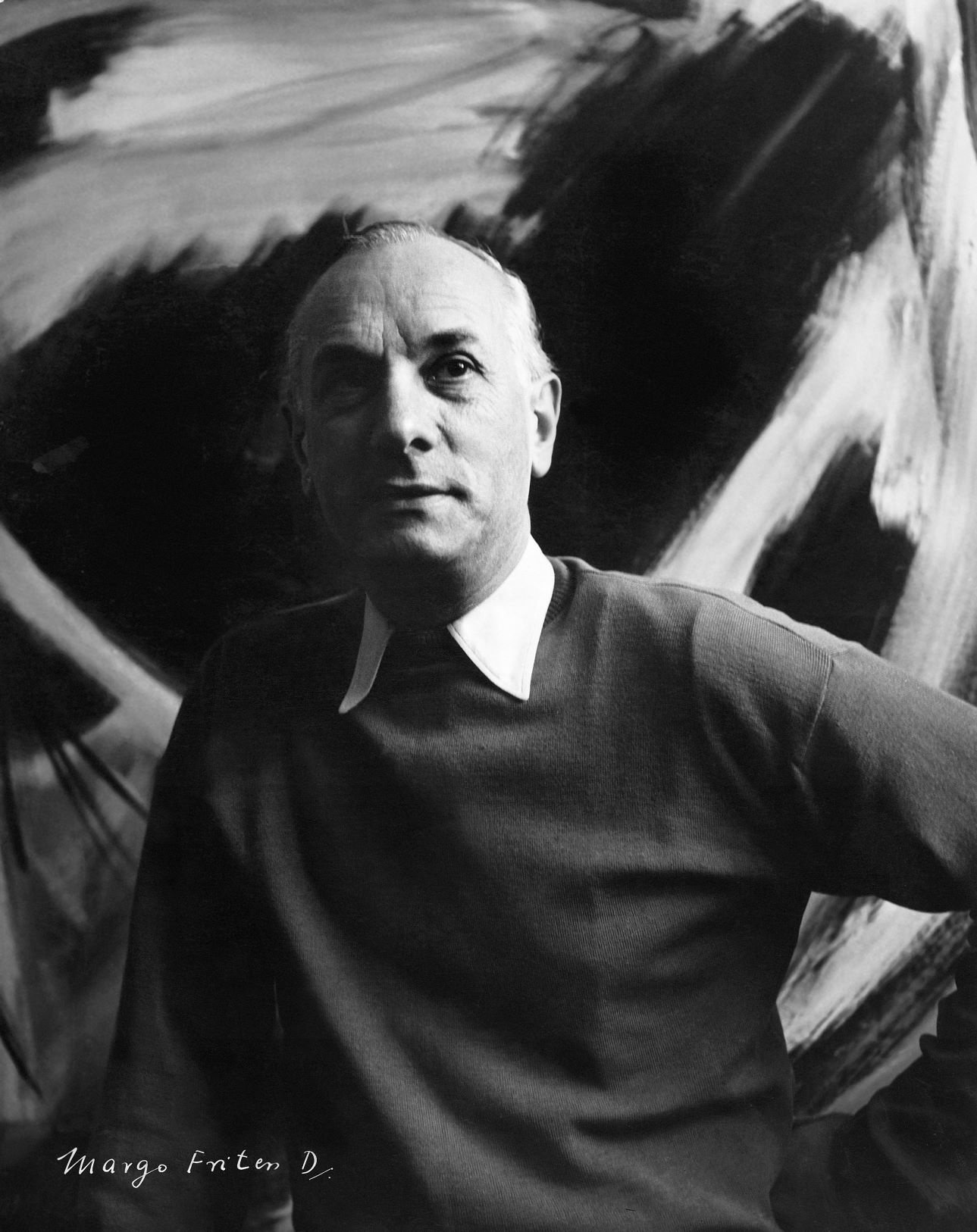 Gérard Schneider in front of Opus 65 B at Armand-Moisant St. studio in Paris, circa.1954. Photo: Margo Friters-Drucker © Archives Gérard Schneider / ADAGP, Paris
1920
His first exhibition was in Neuchâtel, Switzerland after he completed art studies.
At that time, his paintings were in the Neo-Impressionist style.
1930
He had been moving towards abstract art. In the mid-1930s, Schneider was influenced by Kandinsky's revolutionary abstraction art.
1935
He drifted away from still-life, and started applying powerful gestural brushstrokes on the canvas. He once said "I entered abstract painting in about 1937 with some work that came directly from the imagination." In 1944, Schneider's painting became fully abstraction.
1947
It was a critical year for Schneider. He signed exclusive contract with gallerist Lydia Condi, and showed thirteen paintings at her gallery. The same year he also participated The Salon des Surindépendants along with Hans Hartung and Pierre Soulages and Georges Mathieu.
1948
He was selected to participate the 24th & 27TH Venice Biennale in Italy.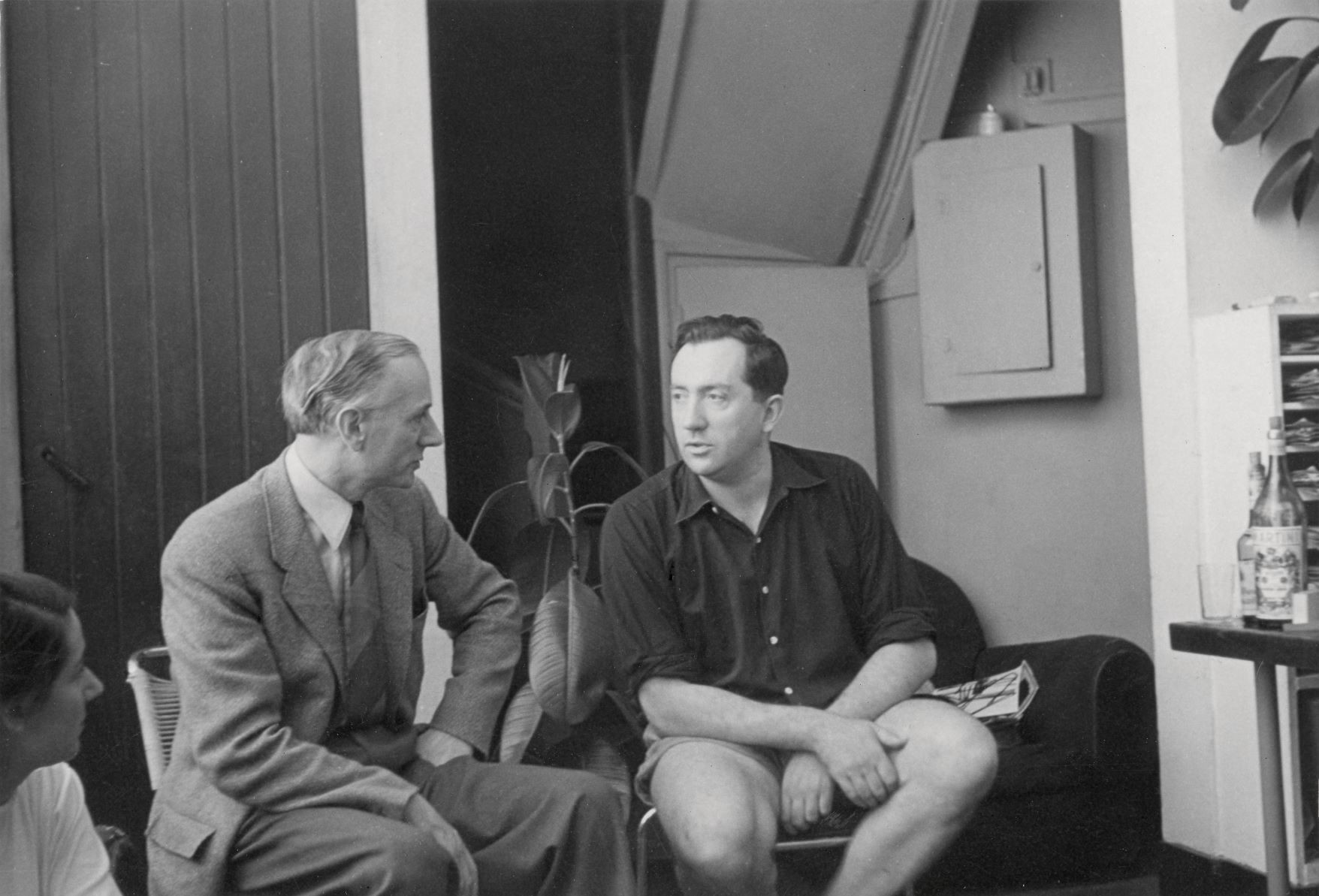 Gérard Schneider and Pierre Soulages at Soulages' Paris Studio, circa.1950 © Archives Gérard Schneider
1949
Schneider, Hartung and young Soulages decided to form a trio. Betty Parsons, a prominent gallerist in New York showed the trio's painting and drawing with other American artists, the show titled, "Painted in 1949. European and American Painters." Schneider, Hartung, Soulages shared the same belief in art and took part in the same exhibitions, events, and debates until 1952.
1951
He was invited to participate the 1st and 2nd São Paulo Biennale in Brazil, also in 1961, he was invited to show solo exhibition at the 6th Edition.
1953
At the age of 57, Palais des Beaux-Arts in Brussels hosted Schneider's retrospective exhibition.
1955
MoMA New York acquired Opus 95B from Schneider. The same year he was selected into the 1st Doucmenta Kassel in 1955, and also participated the Second Edition.
The American gallerist Samuel Kootz signed exclusive contract with Schneider, and showcased Schneider in solo shows and group exhibition from 1955 to 1960. During the same time, the gallery also exhibited Soulages and Zao Wouki's work. Later in 1957 He was awarded Lissone Prize for abstract art.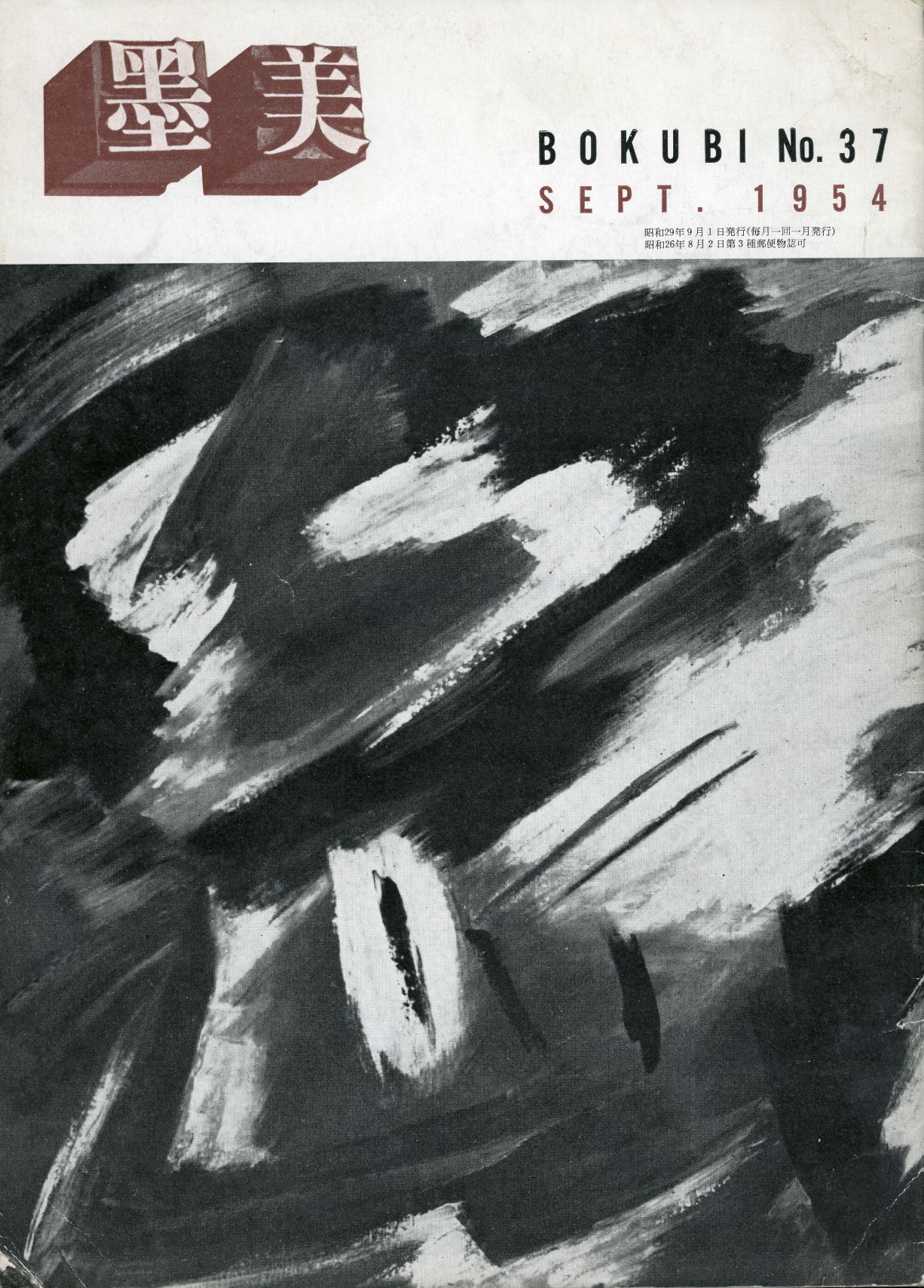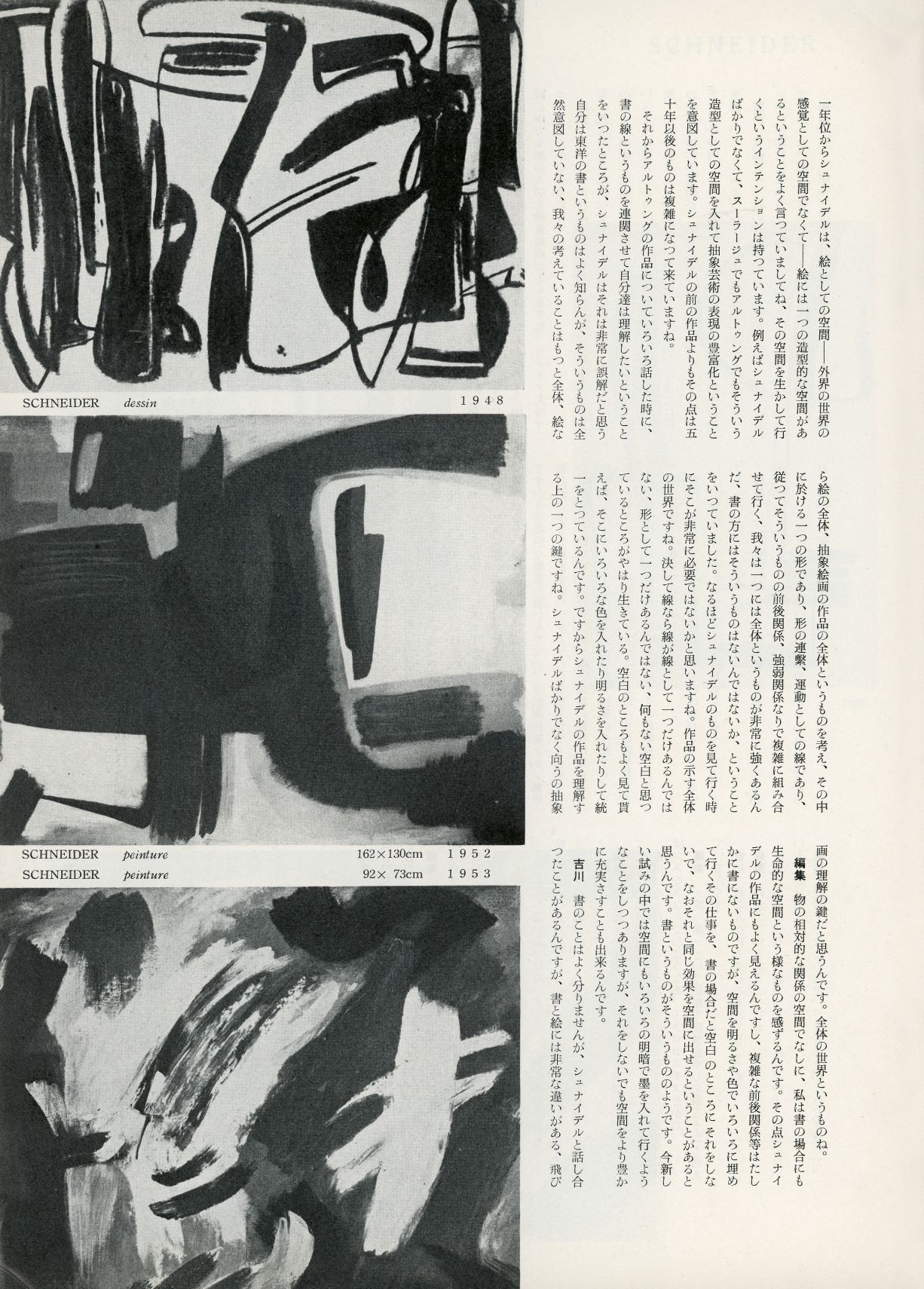 (Left) Japanese magazine Bokubi, n°37, September 1954. On the cover Opus 50 B, 1953
(Right) Bokubi Magazine, n°37, September 1954. Page 28, Article by Itsuji Yoshikawa presenting the work of Gérard Schneider. © Archives Gérard Schneider
1959
He had been exchanged letters with Bokujinkai, a Japanese avant-garde art collective in the early 1950s. Japanese artist and critics published articles about Schneider's abstract art achievement, and illustrated his work on the cover of the Bokubi. In 1959, he received the Governor of Tokyo Prize. Then he was invited by Japan Salon de Mai to participate exhibition in Tokyo and Osaka.
1966
He was selected to present a solo exhibition at French Pavilion, the 33rd Venice Biennale.
1970
Italy Galleria Civica d´Arte Moderna hosted Schneider's retrospective exhibition.
1975
The Ministry of Culture in France awarded him French Grand Prix National des Arts.
1987
Gérard Schneider passed away on July 8 in Paris, France at the age of 90.
---

Important Exhibitions
Palais des Beaux-Arts, Brussels (1953)
Düsseldorf Kunstverein (1962)
Galleria Civica d´Arte Moderna (1970)
The Neuchâtel Museum of Art and History (1983)
Museum Pierre Von Allmen (1990)
The Museum of Art and History, Neuchâtel (2011)
The Museum of Fine Arts, Orleans, France (2013)
---

Important Public Collections

Picasso Museum, Antibes Juan-les-Pins, Côte d'Azur, France
Museum of Contemporary Art, Dunkerque, France
Museum of Fine Arts, Nantes, France
Museum of Modern Art, Nice, France
The City of Paris Museum of Modern Art, Paris, France
MNAM, Centre Georges-Pompidou, Paris, France
Museum of Augustins, Toulouse, France
Museum of Modern Art, Brussels, Belgium
Foundation Gandur pour l'Art, Geneva, Switzerland
Museum of Art and History, Neuchâtel, Switzerland
Museum of Modern Art, Milan, Italy
Modern Art Gallery, Rome, Italy
The Museum of Contemporary Art, Villafamès, Spain
Wallraf-Richartz Museum, Cologne, Germany
Museum Ludwig, Cologne, Germany
The Sonja Henie & Niels Onstad Foundation, Oslo, Norway
Fine Arts Center, Colorado Springs, the United States
Walker Art Center, Minneapolis, the United States
Museum of Modern Art, New York, the United States
The Phillips Collection, Washington D.C., the United States
Museum of Fine Arts, Montreal, Canada
Museum of Modern Art, Rio de Janeiro, Brazil
Museo Menonita, Ciudad Cuauhtémoc, Mexico
Kamakura Kokuhoukan Museum, Kamakura, Japan