Gérard Schneider 傑拉德 · 施耐德
1896-1986
The Swiss painter Gérard Schneider was a pioneer of Lyrical Abstraction, a highly original, rapturous new form of gestural abstraction birthed in postwar Paris that was also championed by Georges Mathieu, Hans Hartung and Pierre Soulages. Immersing himself in poetry, music and Surrealism, Schneider was profoundly influenced by the theories of the Russian abstract painter Wassily Kandinsky, and famously declared that, "painting should be looked at in the same way as music is listened to". His works testified to the transformative power of colour from an early stage of his artistic practice, and his abstract, sensorially rich paintings intensified in colour, form and gesture over the course of his long and critically acclaimed international career.
Born in 1896 in Sainte-Croix, Switzerland, Gérard Schneider's father was an antiques dealer and cabinetmaker. Aged twenty, Schneider entered the École Nationale Supérieure des Arts Décoratifs in Paris, and two years later the École Nationale Supérieure des Beaux-Arts, where he was taught by Fernand Cormon, the teacher of Vincent van Gogh and Henri de Toulouse-Lautrec. His first exhibition of paintings, executed in the Neo-Impressionist style, took place in Neuchâtel, Switzerland after the completion of his art studies.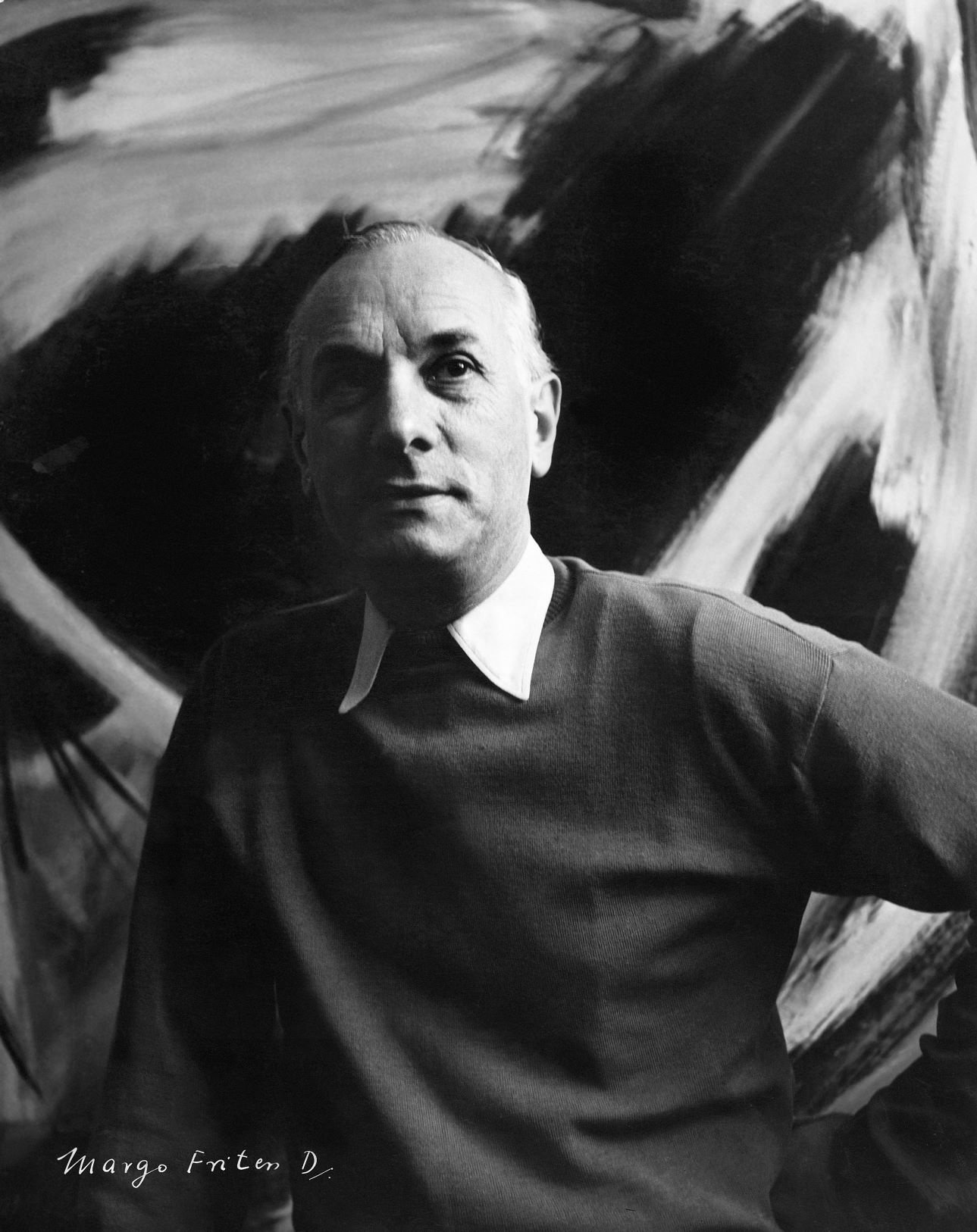 Gérard Schneider in front of Opus 65 B at Armand-Moisant St. studio in Paris, circa.1954. Photo: Margo Friters-Drucker © Archives Gérard Schneider / ADAGP, Paris
Schneider moved to Paris permanently in 1922, a time when Cubism dominated the French art scene. He frequented musical circles and delved into exploring painting techniques and history, admiring the creativity of Cezanne. He first exhibited at the Salon d'Automne in 1926 in the Post-Impressionist style. His work pivoted towards abstraction in the mid-1930s, influenced by Wassily Kandinsky, and dabbling in Surrealist poetry opened new horizons for his work. At the Salon des Surindépendants in 1936, Schneider's work was praised for "such agility that the expression of movement seems to have been included in the rapid technique".
From 1938 Schneider eschewed descriptive titles altogether, and by 1944 he had abandoned all references to reality in his work. 1940s post-war Paris was a particularly fruitful time for Schneider - alongside artists such as Georges Mathieu, Hans Hartung and Pierre Soulages, he championed a radical new form of abstract painting that would become known as Lyrical Abstraction.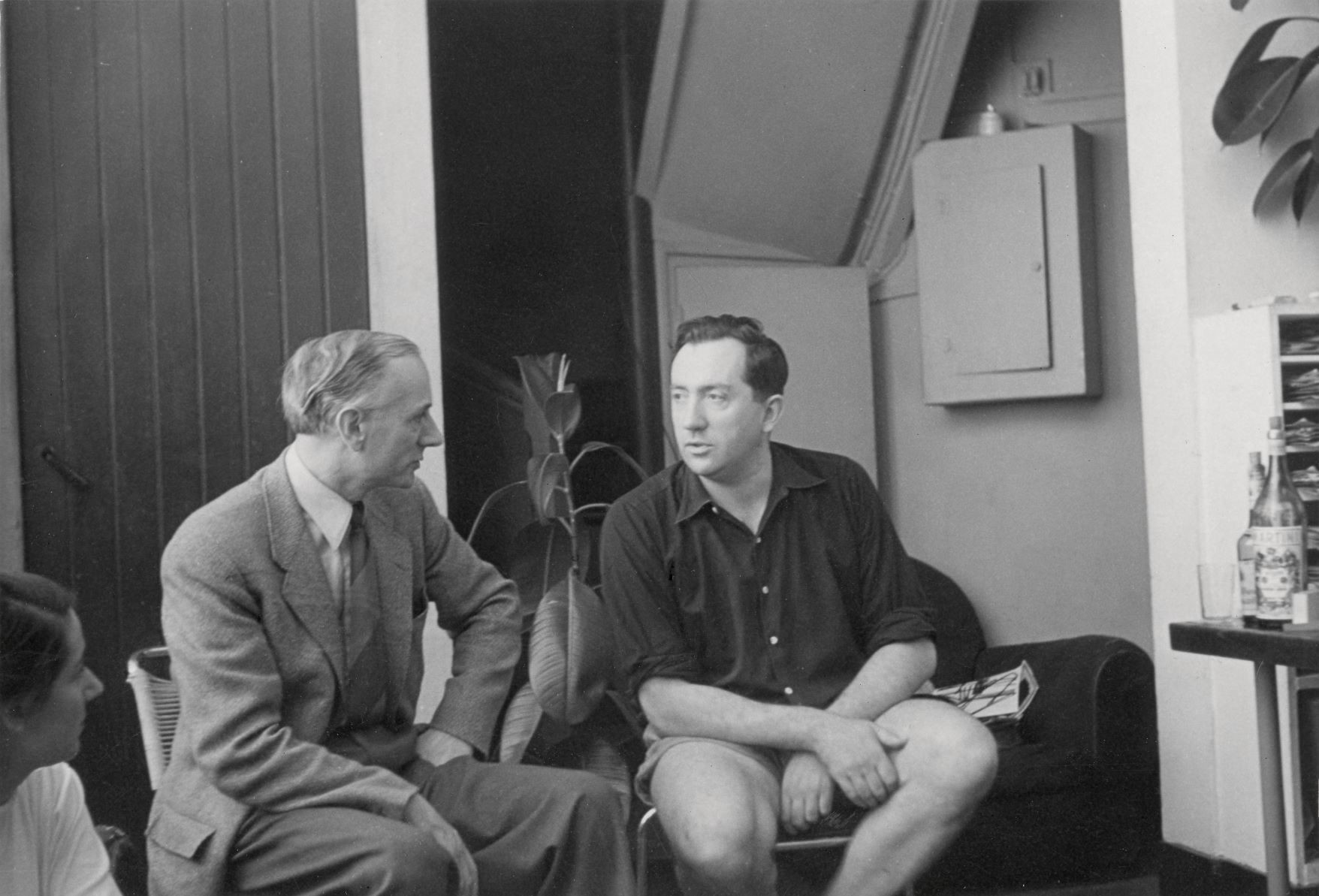 Gérard Schneider and Pierre Soulages at Soulages' Paris Studio, circa.1950 © Archives Gérard Schneider
Major exhibitions followed, often alongside Hartung and Soulages between 1949 and 1952, at Galerie Lydia Conti in Paris (with whom Schneider also signed an exclusive contract), a travelling group exhibition in West Germany (1948-1949), at Betty Parsons Gallery in New York (1949 and 1951), and a group show "Advancing French Art" that travelled throughout the States from Chicago to San Francisco.
The 1950s and 1960s witnessed surging international recognition of Schneider's work: he was selected to participate in the Venice Biennale (1948, 1954 and 1966), the São Paulo Biennale (1951, 1953 and 1961) and Documenta in Kassel (1955 and 1960). In 1955 the famed gallerist Samuel Kootz became his exclusive dealer in the States, and his work was exhibited in solo and group shows at the gallery alongside Soulages and Zao Wou-Ki until the end of the decade. A milestone retrospective was hosted by the Palais des Beaux-Arts in Brussels (1953), and by Turin's Galleria Civica d´Arte Moderna (1970). Two of Schneider's Opus works were acquired by the Phillips Collection (America's first museum of modern art) in 1950, and by MoMA in New York in 1955.
Further afield, Schneider's achievements in abstract art were honoured in Japan, where his works were included in international exhibitions from 1950 until the early 1970s. In correspondence with the avant-garde Japanese calligraphy collective Bokujinkai (墨人会, "People of the Ink") from the early 1950s, Schneider's work was featured on the cover of the monthly journal Bokubi (墨美, "Beauty of Ink") and he received the Governor of Tokyo Prize in 1959.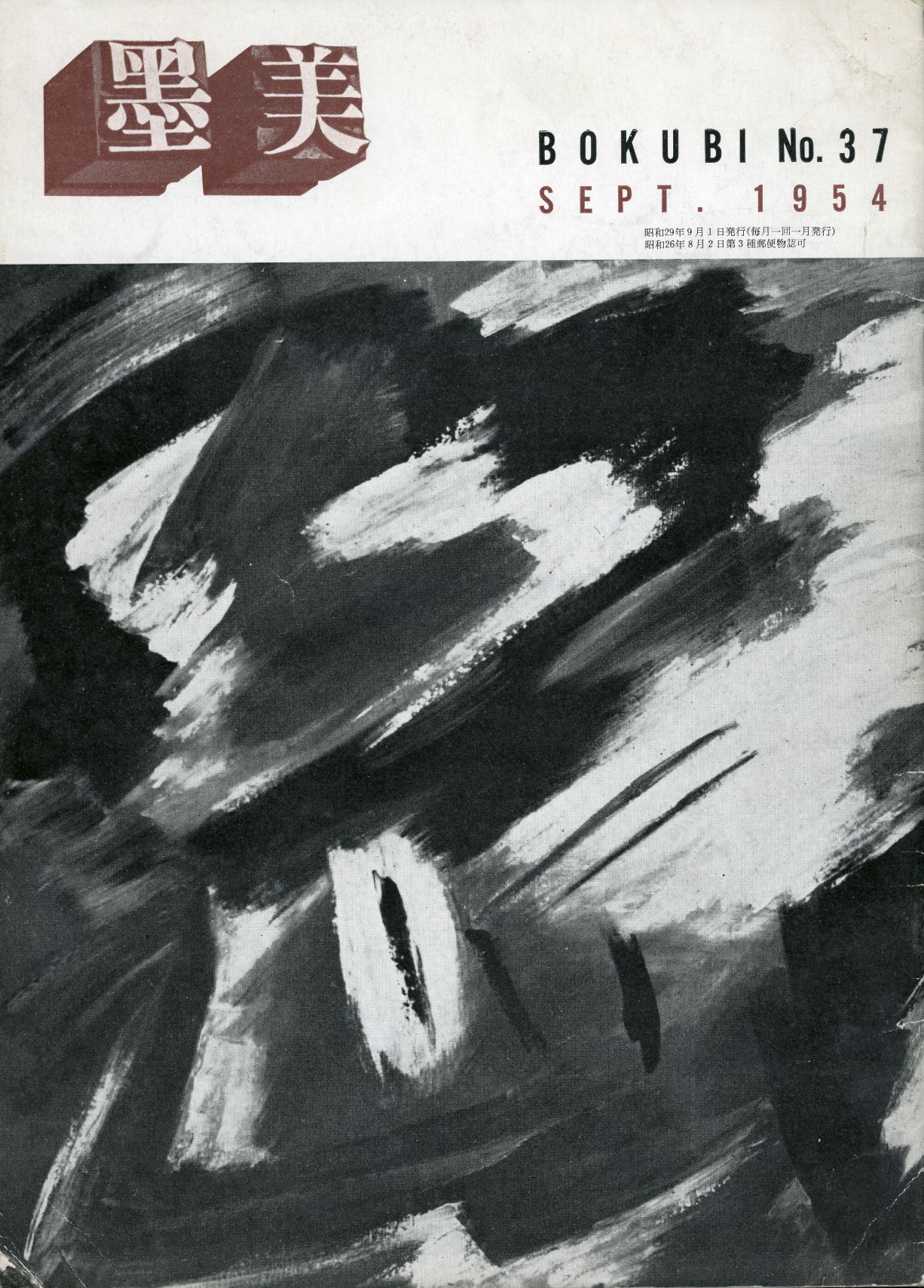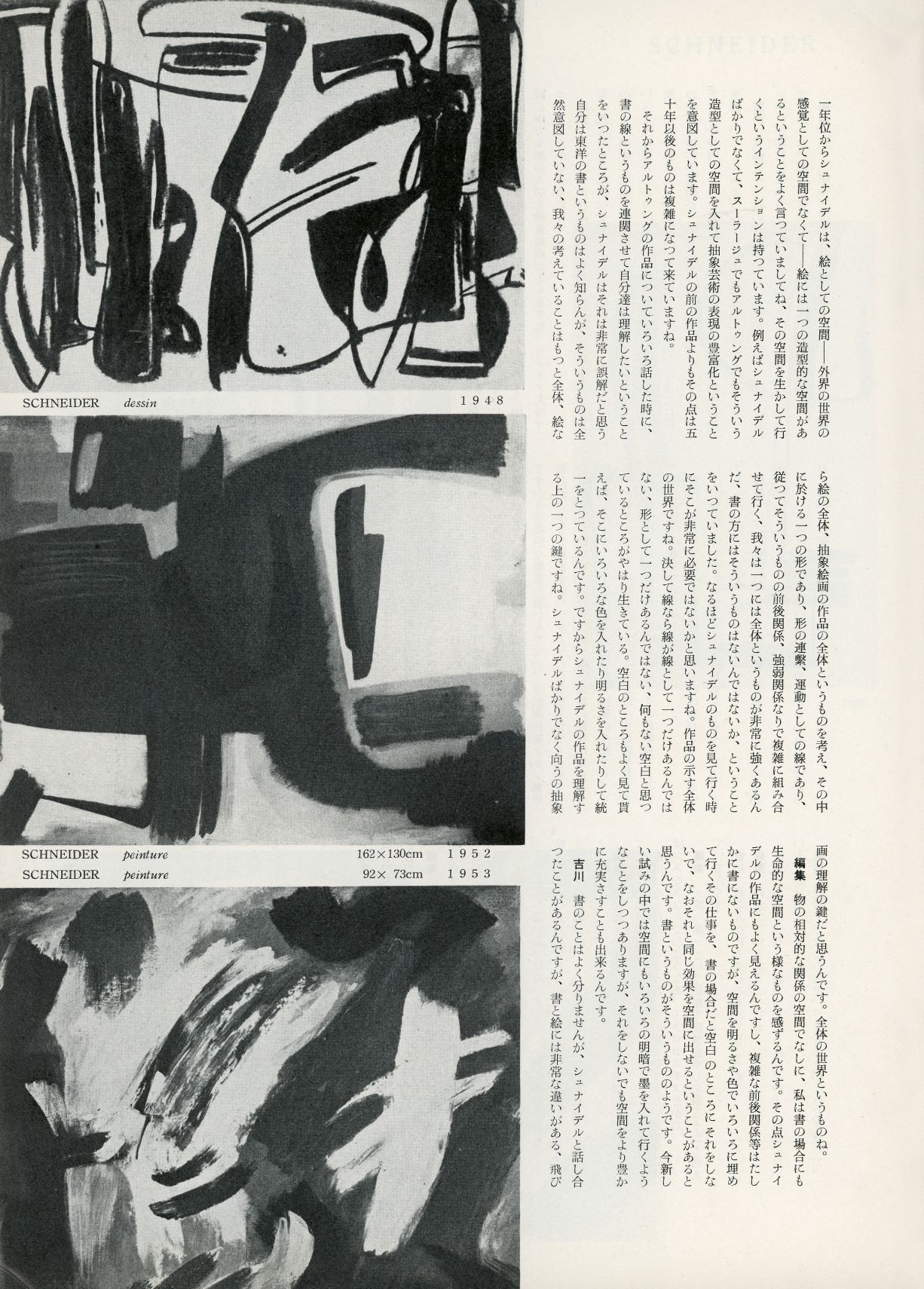 (Left) Japanese magazine Bokubi, n°37, September 1954. On the cover Opus 50 B, 1953
(Right) Bokubi Magazine, n°37, September 1954. Page 28, Article by Itsuji Yoshikawa presenting the work of Gérard Schneider. © Archives Gérard Schneider
In 1975 Schneider was honoured with the Grand Prix National des Arts from the French Ministry of Culture. In 1986, Schneider passed away in Paris at the age of 90.
Years of study (1916 - 1937)
Schneider's early interest in Post-Impressionism culminated in the inclusion of his work L'allée hyppique in the Salon d' Automne in 1926. However, almost immediately "convinced of the error of the atmospheric effects and of the principle of the illusion of bodies in space", Schneider abandoned Post-Impressionism and embarked upon a period of research into movement (1926-1931) and imaginary landscapes that investigated expression and construction (1930-1939). Schneider's experiments with abstraction began in 1932, and his work exhibited at the Salon des Surindépendants in 1936 was praised for "such agility that the expression of movement seems to have been included in the rapid technique".
Frequenting Surrealist and musical circles in Paris whilst dabbling in poetry, in the mid-1930s Schneider also became inspired by the theories of Russian abstract painter Wassily Kandinsky, whose work testified to the transcendental properties of colour and form. Kandinsky, a synaesthete who experienced colour in relation to sound, wrote about painterly "syntax" and visual "chords" composed of colours that caused "vibrations in the soul". His abstract paintings were named "Compositions", "Improvisations" and "Impressions". Schneider's experimentations culminated in 1937 when, "with some work that came directly from the imagination", he embraced abstract painting.
Towards abstraction (1938 - 1949)
From 1938 Schneider stopped naming his works with representational titles, and by 1944 his paintings definitively abandoned all references to reality. Preferring a dark, graphic palette, Schneider was one of the first artists to use black with such emphasis in his paintings. He preferred to work with a combination of India ink, gouache and pastels (a master of all the techniques he had practised, including watercolour and oil paint, Schneider's artistic prowess was informed by his training as a decorator and picture restorer pre-1926). Schneider began to title his large-scale works "Opus" (the Latin term for "work"). Rich musical and lyrical references abounded in his large-scale paintings, with fluid, rhythmic brushwork and bold contrasting colours overlapping in a symphonic climax.
"Years of glory" (1950 - 1961)
The 1950s saw surging international recognition of Schneider's work, with solo and group exhibitions across Europe and the United States as well invitations to participate in Documenta, the Venice Bienniale and the São Paulo Biennale. Schneider's confident gestural brushstrokes became noticeably more liberated throughout the 1950s, evolving from expressionistic to a noticeably more calligraphic character by the 1960s. Attaining a structural harmony in his work that attested to a deepening profundity of his inner life, Schneider's visual language was now underpinned by a subtle poetic state untethered from aesthetic traditions. Working with colour (a mixture of gouache and pastel), he sought a "total creation of forms and colours for a more expressive and more human content", a desire that marked his abstract works apart from the more sober, calculated forms of abstraction championed by Kandinsky, Vasarely and Mondrian.
"Years of enlightenment" (1962 - 1972)
In the 1960s Schneider's style became livelier, with confident calligraphic strokes that soared long and wide. At a time when abstract art was called into question by new artistic movements such as New Realism and Pop Art, Schneider's work reached new heights. Schneider had always been a great colourist but during the 1960s this aspect of his work accelerated in force and clarity. Colour gave his paintings a new structure, depth and light. This development was aided by his discovery of a new medium - acrylic paint - around 1967-1968, which quickly became his exclusive medium. Its fast-drying nature allowed Schneider to execute a painting with rhythmic ease and spontaneity. The second half of the 1960s consequently saw a striking sensory and semantic depth arising from the intensification of colour, form and gesture in Schneider's paintings.
Maturity and large works on paper (1973 - 1986)
Schneider reached his creative peak in his last decade, showcasing virtuoso brushwork and abundant energy with a palette of luminous, joyfully bright colours and simplified compositions executed at speed. At the start of the 1980s he turned almost exclusively to creating works on paper, a medium which demonstrated Schneider's sublime mastery of light and power. He experimented with transparent backgrounds in his more complex compositions after 1975, and reintroduced black pigments in 1979. His last works were brightly-coloured gouaches, executed at his converted farmhouse not far from the Forest of Fontainebleau.